Summer Vacation List: The Natural and Un-Natural
I already miss being in the mountains… for Thursday 13, here's a list of (some of) my accomplishments during our week and 1/2 of vacation in New York (upstate and down):
1. Learned to properly throw a baseball right-handed (I'm a lefty; and there's more to throwing a baseball than I thought).
2. Waded in a mountain stream.
3. Hiked up a mountain at dawn to search for an endangered bird species (didn't hear any evidence of them – looking for Swainson's Thrushes).
4. Wrote a lot; journaled, wrote blog articles, journaled some more. And then wrote more blog articles.  [I don't think journaling or journaled are real words - I can't find usage of journal as a verb, but I'm at a loss for what else to call it. Isn't writing in your journal, journaling??]
5. Learned about the Iroquois Nation and its tribes at the Iroquois Indian Museum. A really fantastic place.
6.  Made new friends that we met at the museum; got together with them the following day.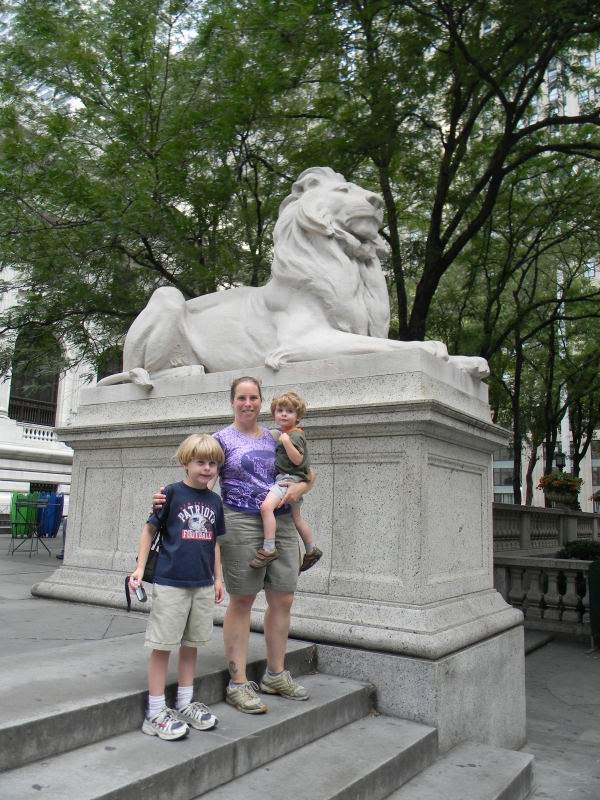 7. Read
On Writing
by Stephen King in its entirety. I highly recommend it to writers in any field.
8. Watched a red fox that took up residence under the barn at our place in the Catskills.
9. Visited with my very best friend down in lower NY; went out for dinner and drinks, and got our families together the following day.
10. Visited the 9-11 Memorial in NYC.
11. Despite being a New Yorker for 26 years, I visited the New York Public Library for the first time and had my picture taken with Patience (or Fortitude).
12. Rode the A-Train.
13. Got up close and personal with a very large spider for an hour and 1/2 (kept a stout pane of glass between us). I really don't think that would make anyone else's vacation list except mine, and perhaps a few of my geekier nature-friends (Kate??).