Windows on Wildlife: Bear Tracks
Welcome to the 9th edition of Windows on Wildlife! If you have a recent post about wildlife you'd like to share – it can be anything: birds, insects, mammals – scroll down to the end of the post and add your site; a compilation of all additions will be posted the following week. Please don't forget to link back here (I'd love it if you'd add the Windows on Wildlife button on the sidebar to your post) and visit other blogs that have articles to share. Thanks for stopping by!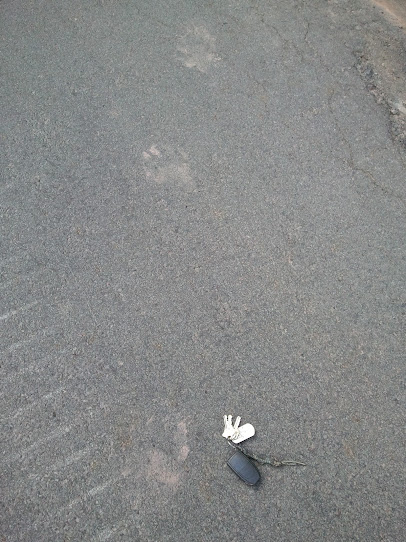 Another wonderful find from the Catskill leg of our NY vacation was these bear tracks that I found crossing the road during one of my daily walks.
The soil in this region of upstate NY is clay-based, so after walking across the stream and up the embankment to cross the road, the reddish mud left great tracks that were discernible well after the individual had left the area.
======================================================
My friend, Another Jennifer joined us last week with a post about some huge spiders, and an ant potluck dinner (no, really).  Jenny at Just Photos By Me displayed some California Sea Lions living in the UK (which made me wonder if the UK has Sea Lions, and if they ever get to go to CA…). And I got to learn a TON about Agile Wallabies from a new contributor in Australia, Bush Bernie's Garden Blog. So glad she could join us – I love learning about wildlife that's local to bloggers around the world!  Share your Window on Wildlife through the link-in below!
---