Finds from a Tracking Workshop: Coyote Scat!
We had a lovely day for the tracking workshop I lead last week. It was out at F. Gilbert Hills State Forest in Foxboro, MA and we had about 19 or 20 attendees (possibly more – I didn't take the final count).
Despite the lack of snow, we found a section of the forest heavily traveled by deer, fox and coyote which we spent quite a bit of time exploring. Fox scat was all over a section of trail right by a deer run which bisected the trail.  Two owl pellets were found when we spread out off-trail to look for further clues from wildlife (one pellet was absolutely huge, and contained the head of what we guessed was a chipmunk, based on size and dental structure). But my favorite find of the afternoon was this impressive bit of coyote scat: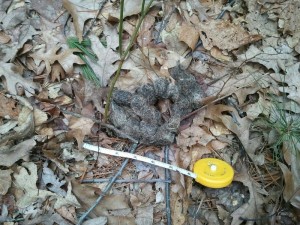 As this state forest gets heavy use from dog owners, one question that arose fairly quickly when we were looking at the fox and coyote scats was how to tell them apart from that of domestic dog. In the wintertime, when vegetative sources for food are scarce, carnivore scat will be made up almost entirely of hair (and bone). So while the shape  (and/or size) might be reminiscent of a dog's, the amount of hair in this scat gives it away as being from a coyote.